Follow this link for an introduction to Virtual Orienteering Challenges.
Location
The Start is at the gate in the north-west corner of North Lodge Park, which is just north of Darlington town centre. The postcode of North Lodge Park is DL3 6JX and the What3words reference of the Start is ///front.roof.wiping.
Click on the link to see a map. You can zoom in (and, optionally, switch to Satellite mode) to see the details of the final approach to the event. You can also get directions if you put in your starting location.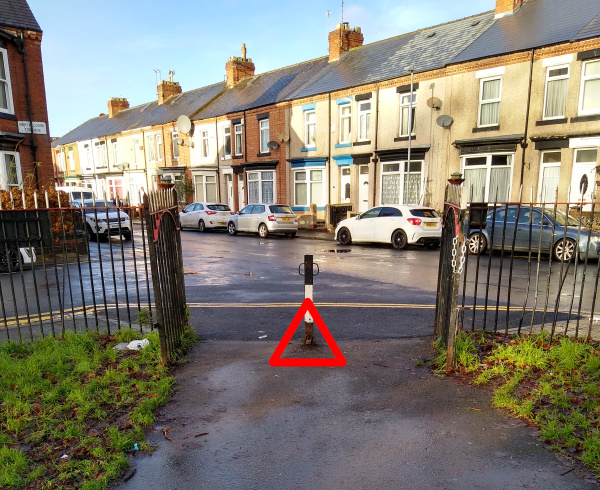 You should be able to park in one of the Kendrew Street car parks – East or West. Both are on the south side of Gladstone Street immediately south of North Lodge Park. There is some parking on the streets around North Lodge Park, but significant stretches are restricted to permit holders.
Facilities
There are no public toilets near the Start. Please make your own arrangements. (There are public toilets in the Dolphin Centre, but it's currently closed due to the Covid lockdown. There are customer toilets in the North Road Morrisons.)
Courses
In the MapRunF app, Select Event and look for Darlington Central VOC1 xxxxx under UK / County Durham / Darlington, where xxxxx is LONG, MEDIUM or SHORT.
The competition area is urban, with some paths and green tracks. Please take care crossing roads.
Please note that the map is not a "proper" orienteering map, and there may be some unmapped buildings, paths, etc.
Paper maps
If you'd prefer to use a paper map rather than the one on your smartphone (which is going to be quite small and can be tricky to see in bright sunlight) you can use the link below to download a PDF copy of the map and print it off at home. If you don't have a suitable printer, Phill Batts is offering a map printing service.
Results
You can access the results via the MapRun Console. Open the menu (three horizontal lines at the top left hand corner of the window), select Leader Board and then filter by Darlington.
Organiser
Caroline Mackenzie
Planner
Malcolm Hewitson
Safety
Please ensure you use a buddy system so that someone knows when you should return.
If you are running after dark or in gloomy conditions, please wear high visibility / reflective clothing; e.g. a high-viz vest, reflective armbands or something similar.
Be aware of underfoot conditions – in particular, icy pavements – and take appropriate care.
Please be courteous to members of the public in the competition area.
Remember to comply with Government guidance on social distancing. For one thing, permission to continue to organise these challenges depends on participants being clearly seen to be following the coronavirus rules. Also, from your own point of view, it's not worth risking catching Covid-19 just to save a few seconds on a navigation challenge.
Go to the CLOK home page